TestCon Europe
2020
HYBRID EDITION

October 13-15
Vilnius and Online
Peter Varhol 
Software Strategist and Evangelist
Technology Strategy Research
Gerie Owen
Senior Test Manager
Cubic Transportation Systems, USA
Peter Varhol 
Software Strategist and Evangelist
Technology Strategy Research
Gerie Owen
Senior Test Manager
Cubic Transportation Systems, USA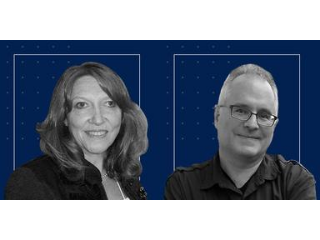 Peter Varhol is a technologist with extensive experience in software development, testing, cloud, and DevOps. He has several Amazon certifications, and has given talks on topics such as multi-cloud strategies, containerization and orchestration, serverless computing, and disaster planning. He's authored dozens of articles and spoken at a number of industry conferences and webcasts. He has advanced degrees in computer science, applied mathematics, and psychology. Currently he has his own consulting company, Technology Strategy Research, which advises clients on software processes, cloud strategies, and DevOps.
—–
Gerie Owen is a Senior Test Manager at Cubic Transportation, Inc. She is a Certified Scrum Master, Conference Presenter and Author on technology and testing topics. She enjoys analyzing and improving test and quality engineering processes and mentoring new QA Leads and bringing a cohesive team approach to testing. Gerie is the author of many articles on technology including Agile and DevOps topics."
Jarek is the author and co-author of a series of books, publications and presentations on nuclear & computer system safety, artificial intelligence and quality assurance in computer science, including "Software testing in practice", "Requirements engineering in practice", "Software engineering: Challenges and Solutions" and "Software Engineering: Improving practice through research".
Since 2012, he has been conducting research on artificial intelligence to ensure quality in IT systems. He is a well-known conference speaker at more than 20 scientific and professional conferences.
Jarek is an advisor to the Polish Testing Board and a member of the Internet of Things Working Group at the Polish Ministry of Digital Affairs. He has also co-created a popularization program for the future Polish nuclear power industry.
When he is not in front of a computer screen, you can find him in a garage, at a shooting range, somewhere far away in the mountains, in the middle of the ocean or… at the Institute of Computer Science and Computer Mathematics of the Jagiellonian University.
Arnika is software tester with over 10 years of experience in the field of quality assurance. "Exploratory Tester of the Year" in the "Testing Heroes 2018" plebiscite. During her professional career, she gained extensive experience, ranging from manual tests, through websites, performance tests, mobile applications, data warehouses, business intelligence, embedded systems, advanced automation, to using machine learning in testing.
Co-author of publications and presentations on quality assurance in IT, including "Requirements Engineering in practice". She is also a conference speaker, presenting at over 20 industry conferences.
Testing Serverless Applications
Serverless cloud applications are rapidly moving into the mainstream. They offer the advantage of lower costs, faster development, and elastic growth. In this model, teams focus on developing and deploying code on a known technology stack and runtime, with fixed interfaces for application, database, and network. But testing serverless applications brings significant challenges to testers. Because the stack is typically maintained by the cloud provider, it is updated with new versions and security patches on a regular basis. Testers have to continuously test the stack interfaces to make sure that interface integrity is maintained. Further, the serverless model usually incorporates an execution runtime engine, abstracting the running code from the rest of the platform. The database can also be abstracted away from actual data calls. While abstraction is generally a good thing, it can also hide important information during traditional testing. This presentation will explain the architectures of serverless systems and applications and look at challenges testers face with serverless applications, why those challenges exist, and how testers can overcome them. It presents a model for testing both serverless components and entire applications with the context of a serverless runtime.